Cobea Becker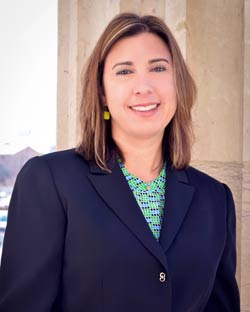 Ms. Becker has been a force in the Colorado judicial system since 2003, coming to Colorado via Temple University Beasley School of Law, in Philadelphia, PA. From 2003-2009 she worked in the Office of the Colorado State Public Defender, working her way up in the ranks to finishing her public defender career as the Office Head of the Trinidad Regional Office.
Entering into private practice in 2009, she has kept herself busy in the areas of Family Law, Criminal Defense, and has begun a new role in Personal Injury cases.
It has always been Ms. Becker's philosophy in her practice of law that each person deserves zealous and caring representation. She is very aware that in Family Law cases, ranging from divorces, to child support modifications, that emotions run high, and these times are likely some of the most difficult that many of her clients have faced. It is important to Ms. Becker that each client be involved in, and understand each step of the litigation of their case. She works closely with her staff and clients to ensure that the clients' voices are heard. In cases involving children, it is of utmost importance to Ms. Becker that the best interests of every child be served. She has settled many cases, but also is not afraid to appear before the Court when settlement is not in favor of her clients, or not serving the best interests of the children.
In her criminal defense practice, Ms. Becker has remained court appointed counsel through Alternate Defense Counsel. She has tried numerous cases, with a high rate of success. She has defended those faced with charges varying from DUI, traffic offenses, misdemeanors, all level felonies, including drug offenses, sexual assaults, and homicides. Ms. Becker has tried numerous cases with a solid rate of success obtaining acquittals for a number of clients. Ms. Becker believes that each person's constitutional rights are fundamental and deserve every protection afforded to them. There is no criminal case that Ms. Becker won't defend, as every person deserves the very best representation when their liberty is on the line.
Ms. Becker has practiced in many jurisdictions throughout Colorado, including Jefferson, Denver, Arapahoe, El Paso, Pueblo, Alamosa, Otero, Bent, and Las Animas counties. She is well respected by the judges and her colleagues in each of these jurisdictions and has had a high rate of success with each of her clients.

Ms. Becker is originally from Tucson, Arizona. Her family runs a pecan farm in Southern Arizona. She has two young sons, and when she is not working, or spending her time chasing after the little ones, she enjoys spending time, running, and doing any activity that takes her into the sunshine.


Ms. Becker is bilingual in Spanish.


Ms. Becker has represented several high profile clients and appeared in the media representing these clients. Below are links to some of the articles involving Ms. Becker's clients. She is excited to meet new potential clients and would love to help guide you through the sometimes daunting judicial web.

http://www.denverpost.com/news/ci_8535391

http://abcnews.go.com/US/video/dylan-dougherty-tearful-remorseful-sentencing-16245627
http://www.denverpost.com/news/ci_4630986

http://www.chieftain.com/news/region/charges-dismissed-in-walsenburg-sex-case/article_8c23deb0-94e4-11e1-b199-0019bb2963f4.html
EDUCATION
J.D. Juris Doctor, Temple University, Philadelphia, Pennsylvania, 2003
B.A. Political Science, Sociology and Spanish, University of Arizona 1999
MEMBERSHIPS
Colorado Bar Association
Pueblo Bar Association
Colorado Criminal Defense Bar
National Association of Criminal Defense Lawyers
Alternate Defense Counsel