Family Law
At Becker & Ernst we have extensive family law litigation experience, taking a fair and balanced approach, but being steadfast in our commitment to achieving the best outcome for you. Matters of family law are complex, and fraught with emotion. There are times where our experienced attorneys will use other means of resolving the conflict, such as negotiated settlements, mediation and a collaborative divorce process in order to achieve the best outcome for our clients.
The State of Colorado has a Domestic Code that ensures you certain rights. It's intention is to make domestic relation disputes as equitable as possible. We understand those laws and can guide you through the legal process.
We handle a range of issues within family law including:
Divorce - Contested and Uncontested
Child Support
Adoptions
Modifications and Enforcement
Custody Dispute
Maintenance
Property Division
Grandparent Visitation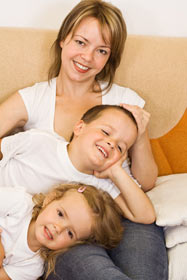 We also can assist you with adoptions, step parent adoptions and cases involving the severing of parental rights.
When you hire us to resolve your domestic disputes, we will take the time to get to know you and learn the details of your case so that we can formulate the strategy to achieve the best result possible. We will keep you fully informed every step of the way of all developments in your case, as well as of your options and likelihood of success. To build your case, we partner with a wide range of professionals, including psychologists, social workers, financial advisors, private investigators and tax professionals. Through this information, you can make the best decisions to protect your future.
To set up a confidential meeting, call our Pueblo office.
Divorce
If your marriage cannot be salvaged, and you have decided a divorce is your only remaining course of action, there are options regarding how you can proceed.
Uncontested Divorce
Most divorces in the U.S. are "uncontested" because the two parties are able to come to an agreement. If you have a cooperative relationship with your ex-spouse and are able to come to agreement regarding division of assets, children and support, we can assist you in presenting to the court a fair and equitable agreement. Even if you are ending your marriage amicably, it is still wise to hire legal counsel to review the terms of any agreement so that you get the outcome you seek. Should you require mediation in reaching a settlement we can help you by serving as a collaborative divorce attorney.
Contested Divorce
If you are thinking about filing for divorce and your relationship with your ex-spouse is combative or bitter, you want an experienced lawyer to guide you through the process. With emotions running high, a contested divorce can easily erode into costly conflict, ultimately hurting both parties and any children. Our compassionate divorce attorneys can keep you focused on moving forward with your life, while they effectively and efficiently handle all the legal matters to achieve the best resolution possible.
Child Custody and Support
We protect our clients, and their children! Therefore, we are always cognizant of what is in the best interest of the children. We work with men and women at all stages of a child support dispute. Often significant and difficult questions arise. How will the court determine who has custody? Is it better for your children to seek joint or sole custody? How will your children be financially supported? How will visitations be handled? What if you want to relocate?
At Becker & Ernst, we take a thoughtful approach to the complex emotional issues of child custody and support. Our lawyers will help you craft a child custody and visitation arrangement that fits your children's needs. We seek agreements promoting regular and meaningful interaction between children and both parents. We work hard to ensure financial stability for them, and will be there for you in the event modifications or enforcement are required. We will work with either party in a child support dispute, and can help you take swift action to amend an existing order.
Step-Parent Adoptions
Step parents may play a greater role in a child's life than the absent parent, and their love of that child is unbounded. However, in the eyes of the court, they have no rights. Our attorneys can help you to legally become that child's parent through a step-parent adoption (or other intra-family adoption). For a step-parent adoption to proceed, a biological parent must relinquish his or her rights. If they do not agree, a hearing may be held to seek termination of rights. This is a very complex and emotional situation, and you need a confident and caring professional to guide you through it.